LabPrints NEW online storefronts now available!

Our completely redesigned storefronts feature a fresh look and style, enhanced customization, and lower commission fees. Plus, we have just added the ability for our photographers to offer Multi-Pose Packages and Photo Albums to customers!

Along with our new designs come all-new pricing plans, maintaining the LabPrints position as the value leader in the field of online storefronts. Click here for more pricing information (opens in same window).

Benefits of the new LP storefronts:
Significantly improved image quality (requires latest software update, v5.6);
A simple and versatile Compare Images feature, which will even let you compare Color and B&W of the same image;
A great new variable-speed Slide Show;
Smart and obvious navigation of the site, knowing that there is a broad range of end-user experience level for the storefronts;
Versatile customization, including a fantastic new theme selection feature-all you do is choose a color, and a complete theme is built around it! By taking advantage of this feature, studios will be able to tie the look of their LabPrints storefront in with their own website and their own "look and feel;"
A "mini-cart" window on every page, showing the running total of the order;
Option to link from the home page of the storefront to studio website and e-mail;
Events can be selected in a number of ways, customizable to the studio's needs: thumbnails showing the first image uploaded for the event plus event name and date info; a dropdown list of event names; and/or by entering the event name... any combination of these three methods can be chosen;
Easily customized price lists, including single-pose, multi-pose packages, and photo albums;
Customers can print a receipt showing all relevant order information.
How to start using the NEW online storefronts!
If you already use LabPrints, please follow the directions below. If you are a new customer, please call 518-274-3931 ext. 316 or email us at newstorefronts@labprints.com.


Note: Version 5 is required to configure the new storefront options.
Version 4 users please click here to download version 5.
1) Go into LP Digital Studio.

2) Click on the 'Online Storefronts'tab, and then on the 'Online Account & Storefront' button.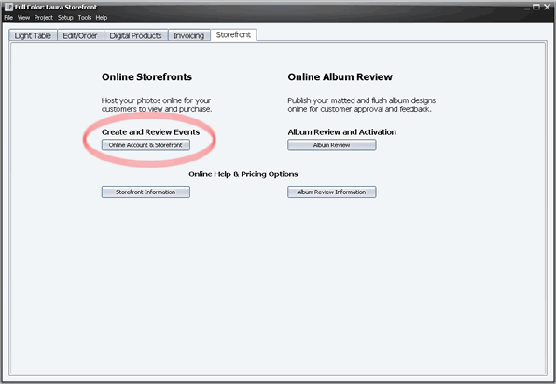 3) Go into 'Storefront Settings.' Follow the yellow link for 'Storefront look/theme.'

4) Select your theme color. (The colors that have '(NEW)'after them, are new storefront designs.)

Click the PDF below for more detailed information as well as information on our new pricing plans (opens in new window). No matter what the subject- portraits, weddings, sports, etc... we think you'll agree that our new selection of pricing options has just the right answer for every studio.